NEWS
2021.11.01
"Kofukuron" Present Quest (global giveaway to all participants)
All Spotify users (globally) are eligible
"Kofukuron" Present Quest begins!
Let's all work together to reach the goal: A present for everyone!
【How the "Quest" works】
STEP1
When Spotify fans all over the world listen to "Kofukuron" and
330,000 PLAYS are registered on artist Yuu Miyashita's Spotify page, everyone wins!
Please use the hashtag: #akanoya_quest to invite friends to participate or tweet during the campaign.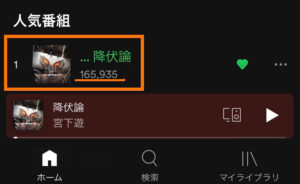 STEP2
Once the goal has been achieved, a URL will be announced to download your present.
*You will be required to follow Spotify to receive the present.
*You can claim your present even if you are on "Spotify Free."
【Conditions/Duration of Campaign】
The goal: 330,000 "PLAYS" in 33 days! (Ends on Friday, Dec. 3 at 23:59)
【The Present】
Smartphone wallpaper with a message from Yuu Miyashita for every participant!
【Song】
 "Kofukuron"

【Important instructions】*Please read before participating
*As screen sizes differ by smartphone model, the wallpaper may not be readily displayed or useable. If necessary, please adjust the display size in Settings to fit your screen. Thank you for your understanding.
* Rights to the present cannot be transferred to third parties, monetized or changed.
* Any communication/data fees will be borne by the participant.